Aloe is one of the most powerful topical anti-inflammatories in the plant world. Not only does it reduce inflammation quickly it is also a pain inhibitor – you or your horse will feel its soothing effects within 5-10 minutes of application.
USES
Traditionally Aloe resin has been used extensively as a laxative for people, there's also references to Bitter Aloes in old veterinary texts for its use in treating colic. The resin containing antraquinones (giving the laxative effect) is found directly under the skin, between the skin and internal mucilaginous gel. The resin should not be confused with the gel.
It is the gel that can be used both internally and topically. Internally it helps to heal or soothe irritated gut walls improving gastric and intestinal function. Traditionally it has been used in Thai and Ayurverdic medicine for the treatment of peptic ulcers. Used topically (applied directly to part of the body), the gel soothes and treats burns, and assists in healing wounds and abscesses.
Any swellings – if you can't bandage the area then hold the gel over the swelling for at least 10 minutes 2-3 times daily. One client's horse galloped round a corner only to find the gate was closed. He turned the steel gate into a v shape and needless to say his nose and head swelled alarmingly. Whilst waiting for the vet she was able to get some aloe on his nose, then more as he was visibly relieved. He had been a head shy horse before that incidence so aloe helped him with both of his problems!
ALOE BANDAGE
To make an aloe bandage, cut about 15cm length from a mature aloe leaf, scrape the mucilaginous gel from the inside of the leaf and mash it into the gamgee or combine dressing – which will have been cut to size to go around the limb – gel side to the afflicted area and bandage. Leave in place for 12 hours and repeat if any inflammation is still present. Be aware when you remove the bandage that the gamgee will have the red/liver colour of the oxidized gel… but no cause for alarm.
TOPICAL TREATMENT
Always apply asap, for burns, for any inflammation, for wounds, abscesses and chronic leg ulcers. Use it for mouth ulcers or tears in the mouth. I have applied aloe to horses for over 30 years and haven't had any adverse effects reported, only great results!
CULTIVATION
Dead easy to grow. Not too fussy about soil types but like many herbs Aloe doesn't like wet feet or frost. It's very hardy once established. Handy to have a plant or two growing close to the house and stables. Aloe does well in pots – it enjoys being crowded with the suckers or 'pups' it throws off once it has matured (2-3 years). You can pull the 'pups' and replant elsewhere or pot up for gifts.
HARVESTING
Aloe is a succulent from the Xeroid family. This means that when part of a leaf is cut or broken the plant immediately starts to self-seal so it's able to protect all of its moisture. So, if a 15cm length of leaf is needed to make an Aloe bandage you can cut or break that amount off knowing that the remainder of the leaf will self seal and retain all of its fabulous therapeutic properties.
Home Grown First Aid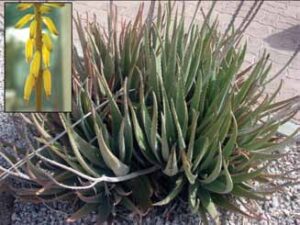 Aloe Vera – there are approximately 267 varieties of Aloe species. Ideally Aloe barbadensis is the species grown for it's 40-60cm long mucilaginous leaves with multiple uses.
Identification: Aloe barbadensis is similar to another species of Aloe and the 'look alike' is often mistakenly sold in nurseries as barbadensis. For topical use as an anti-inflammatory this doesn't matter too much as the 'look alike' will do a pretty good job. Distinguishable differences are, barbadensis flower spike is creamy white, the 'look alike's' flower is orange. When a leaf is cut and begins to self-seal the barbadensis leaf oxidises showing a red/ liver colour whereas the 'look alike' will oxidise showing a yellow/green colour.
As mature plants of 2-3 years the barbadensis will be taller (40-60cm) and the skin of the leaf will be a darker green, more robust leaf than the smaller 'look alike' with softer lettuce green leaves with white dapples.
This article appears courtesy of Hoofbeats Magazine from the August/September 2016 edition. Angela Davison contributes as part of the Green Horse Team, and delivers hands-on herbal advice to readers. Visit http://www.hoofbeats.com.au/ for subscription details.